The 20th Annual Catskills Lark in the Park is Saturday, September 30th through Monday, October 9th, 2023
The Catskills Lark in the Park was founded in 2004 to mark the 100th anniversary of the founding of the Catskill Park. The Lark is a series of events celebrating the Park with a full range of offerings across the region. Since its inception, the Lark has brought together thousands of people that have participated in hundreds of events, all aimed at enjoying the recreational assets of the Catskill Park  and Catskill Region. While the main organizing partners are the Catskill Mountain Club, the Catskill Center, the New York Jersey Trail Conference, and the NYS DEC, we couldn't do it without the enthusiastic participation of so many volunteers. They've really stepped up again this year to bring you all kinds of fun events…
2023 Schedule 

Click on events below  to learn more and to register. You can also view the Events Calendar at the top of this page.
September 30
Hike to Stoppel Point, September 30, 9AM
Hike Giant Ledge from Woodland Valley, September 30, 9:30AM
Hike to Bramley Mountain, September 30, 12PM
October 1
Photography Hike at Catskills Visitor Center, October 1, 9AM
Guided Hike and History of the Escarpment Trail & Trailhead Cleanup, October 1, 9AM
Hike to Red Hill Fire Tower, October 1, 10AM
Hike to Headwaters Trails, October 1 10:30AM
Outdoor Skills Hike for New Hikers, October 1, 11AM
Yoga at the Market, October 1, 11AM
October 2
Mountain Bike Lake Minnewaska Carriage Roads, October 2, 9:30AM
Hike to Rochester Hollow, October 2, 10AM

October 3
Hike Millbrook Ridge, Alder Lake, and Balsam Lake Mountain, October 3, 8:30AM
Hike Slide Mountain – Curtis-Ormsbee Loop, October 3, 8:30AM
Backpack the Devil's Path October 3-5
Giant Ledge Hike, October 3, 10AM
October 4
Hike the Plattekill State Forest Road, October 4, 9AM
Dry Brook Ridge Trail Maintenance Hike, October 4, 10AM
Birding Walk at the Catskills Visitor Center, October 4, 10AM
Loop de Loop Hike at Frick Pond, October 4, 3PM
Yoga at the Arboretum, October 4, 3PM
October 5
Huckleberry Point Hike, October 5, 8:30AM
Topo Map Reading for Beginners, October 5, 5:30PM
October 6
Platte Clove History Hike, October 6, 9AM
Hike to North Mountain, October 6, 9AM
October 7
Mountain Top Historical Society – Hikefest #1 Kaaterskill Falls, October 7, 8:30 AM
Mountain Top Historical Society – Hikefest #2 Kaaterskill Junction, October 7, 9AM
Mountain Top Historical Society – Hikefest #3 Kaaterskill Clove Vistas, Oct. 7, 9AM
Hike Pakatakan Mountain, October 7, 9 AM
Paddle the Pepacton Reservoir, October 7, 11AM — Moved to October 8th
October 8
Forest Bathing Walk at Catskills Visitor Center, October 8, 10AM
Native Plant Presentation, Mountain Top Arboretum October 8, 10:00 AM EVENT HAS REACHED CAPACITY
Burroughs History Hike, October 8, 10:30AM
Paddle the Pepacton Reservoir, October 8, 11AM
October 9
Indigenous Peoples Day/ Manitou Tour Hike, October 9, 10AM THIS HIKE HAS REACHED CAPACITY
☆ ☆ ☆ ☆ ☆ ☆ ☆
Hike the Six CMC Hiking Trails and Earn a Star!
Introducing a new hiking program from the CMC, this hiking tour will take you on a journey touring the six remarkably varied trails built and maintained by the CMC in partnership with the NYCDEP, local governments and with the generous cooperation of private landowners.
Hike them all and for your efforts you can earn a beautiful embroidered patch. If you have hiked some of them previously, those count.  Just finish the list, send in your application and we'll send you your award at no charge. Click here for to learn how you can get you star!
Paddling
Paddling is a great way to enjoy the foliage and with easy social distancing!  Explore one of the beautiful NYC reservoirs or take a trip down the East Branch of the Delaware like John Burroughs.   See our paddling suggestions here.
Hiking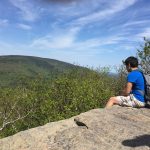 This Lark in the Park, take the trail less traveled. Since the pandemic started, the more well known Catskills trails have seen a significant increase in usage.  We think it is more fun to explore the trails the crowds don't know about. Check out our suggestions for those here.
Bike Riding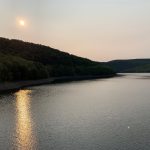 It's hard to beat fall bike riding.  The weather is cool and comfortable and the scenery is spectacular.  Some of the best rides in the Catskills are found in the scenic farming valleys and around the reservoirs.  Many of them are relatively flat or ascend gently towards the head of a valley on dead end roads.  Check out where to ride by the pictured view and other great biking suggestions here.
Scenic Byways, Scenic Overlooks and Scenic Walks
Scenic drives are a great way to see big views and spectacular foliage while social distancing.  To help you find some of the best,  see our recommendations here.  The Palmer Hill scenic overlook is pictured .
☆ ☆ ☆ ☆ ☆ ☆ ☆
Since its inception in 2004 to mark the 100th anniversary of the founding of the Catskill Park, the Lark in the Park has brought together thousands of people who have participated in hundreds of events sponsored by dozens of organizations, all aimed at heightening awareness of the Catskill Mountain region of New York State.
Recognized as America's First Wilderness, the Catskills have played a crucial role in forming our sense of wilderness as a place of intrinsic value that should be protected. Early American artists such as Thomas Cole, Asher B. Durand and Frederick Church celebrated and popularized the notion of nature as sacred in their Hudson River School paintings. Similarly, authors such as Washington Irving, James Fenimore Cooper and William Cullen Bryant wrote stories, novels and poems that spread the word about the Catskills worldwide. A few decades later, Catskills native John Burroughs famously wrote about the area with the eye of a naturalist. One of the most important early writers of wilderness and nature, his articles were published in national magazines and his books sold widely. The modern conservation and environmental protection movements can be traced to the Catskills, in no small part as a result of these early works of art and literature.
Today we celebrate the Catskill Park and Mountains annually with the Catskills Lark in the Park. From hiking to paddling to cycling, and from natural history to human culture to stewardship service the Lark offers everyone opportunities to live and learn in and about nature. There could be no more appropriate place for this celebration than the Catskills. We hope you will join us.
The coordination of this event is managed by a partnership of the Catskill Mountain Club, The Catskill Center, the  New York-New Jersey Trail Conference, and the New York State Department of Environmental Conservation.
  The Catskill Park and its Forest Preserve is a 705,000-acre patchwork of public and private lands in the Catskill Mountain Region of New York State, including nearly 300,000 acres of public lands . The New York State Department of Environmental Conservation is responsible for managing the forest preserve lands within the Catskill Park, which are designated "forever wild" in the New York State Constitution.. The purpose of the designation is to conserve these lands, to protect the environment and to provide public access to outdoor recreation. In addition to the Forest Preserve lands, the New York City Department of Environmental Protection owns and manages over 150,000 acres of land to protect New York City's watershed for drinking water. The remaining land of the Catskills is owned privately and hosts services for visitors and residents, including lodging, restaurants, cultural institutions, farm stores and entertainment venues.