Topo Map Reading for Beginners, October 5, 5:30PM
Native Plant Presentation, Mountain Top Arboretum October 8, 10:00 AM
The Catskill region is home to some of America's most significant arts communities. The region gave rise to the Hudson River School,  America's first art movement.  The Catskills have inspired some of our finest painters, sculptors, musicians, poets, storytellers and thinkers. That tradition continues today.
Brunel Sculpture Garden Self-guided Tour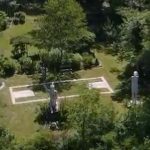 Dedicated to the mysteries and grandeur of nature, Brunel Sculpture Garden is home to over a dozen concrete statues, figurative sculptures, bas reliefs, and totem poles, conceived and constructed nearly 100 years ago by Emile Brunel, a photographer, sculptor, film maker, and founder of the New York Institute of Photography.  The Garden features pollinator-friendly and native plants, unusual edible fruit trees and vines, and celebrates the beauty and splendor of the Catskills.   Open daily 1 – 5 PM.  PARKING IS AVAILABLE ON THE SIDE ROAD EAST OF DESILVA ON ROUTE 28, BETWEEN CALDWELL BANKER AND BREAD ALONE IN BOICEVILLE. More info.
Mountain Top Arboretum
Mountain Top Arboretum is a public garden in the Catskill Mountains dedicated to displaying and managing native plant communities of the northeastern US, in addition to curating its collection of cold-hardy native and exotic trees.
Beautiful paths lead through the Arboretum's 178 acres of meadows, woodlands, and glens.
More info
.
Additional Arts and Cultural places to visit along with their current opening status can be found here at the Catskills Visitor Center website.