Hike Black Dome and Thomas Cole Mountains | Saturday, October 9th, 2021 @ 8:30 AM
October 9, 2021 @ 8:30 am

-

5:00 pm
Join the fun on a favorite Catskills hike just off the Escarpment with great climbs and scrambles.  With fabulous views and friendly hikers, this is one I love.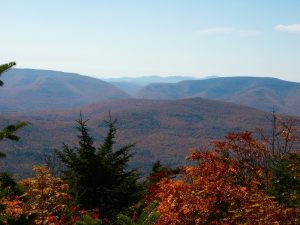 Be prepared:  mask, water, snacks, lunch.
Event Duration:  9 miles,  8 hours
Level of Difficulty:  Difficult
Leader(s):  Deanna Felicetta
Bring: good hiking shoes. mask, water, snacks, lunch. layered clothing, tick repellent. Hiking poles recommended.
Registration required by October 6th.  Use registration form below to register.
PLEASE contact the leader and cancel if you are not able to come as others may want to take your place.
Group size is limited so register early.
Fee:  No
Dogs allowed:  No
Questions about this event can be directed to:  Contact Deanna at felicetta.deanna@gmail.com or 845-216-2021
Covid-19 Guidelines:  Due to the rise in delta variant cases locally and nationally we have revived these simple protocols for participation in our in-person events. Wear a mask while congregated in the parking lot or at other sites.  Follow social distancing protocols.  Use your own pen when signing in, or use hand sanitizer. Other guidelines may apply, depending on event. The event leader will inform participants.
Note:  Please protect others and yourself by following these simple, CDC endorsed guidelines.  Please be vaccinated.
Driving Directions:  See Map #141 northeastern Catskills.
Park at the end of Big Hollow Road (County Route 56) in Maplecrest, NY.
From SR 23 at the east end of Windham, NY take NY-296 S for 1.5 miles which turns into Maplecrest Road.  Turn right onto County Road 40 and proceed for 1.8 miles and turn left on Big Hollow Road (Route 56).  Proceed on Big Hollow Road for 4.2 miles.  The parking area is on the right at the end of Big Hollow Road.
From Hunter and Tannersville use Route 23A , turning north onto 23C, and then going on to MAPLECREST road (CR 40) and then a right onto Big Hollow Road, proceeding to the end of the road.
GPS coordinates: 42.28884, -74.11505
After you press "Submit" below the registration form, you will see a screen that says "Your registration has been submitted". If you do not, an error has occurred. Please resubmit, being sure to complete all fields. You should receive a message from the leader acknowledging your registration.
Register: