Eagles in the Upper Delaware River Watershed
October 12, 2019 @ 4:00 pm

-

5:00 pm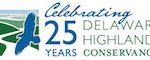 You're invited to "Eagles in the Upper Delaware River watershed" with Ken Myett. Co-sponsored by the Delaware Highlands Conservancy.
Join us to learn about the relationship of Bald Eagles with our Upper Delaware River watershed.  Watch the film  "Eagles, An American Success Story" created by the Conservancy and featuring Peter Nye who took the lead and brought Bald Eagles back to New York State.
Every year about 200 Bald Eagles drop in on the Upper Delaware from frozen points north to survive the coldest months. We'll learn how to safely view these beautiful birds. There are also opportunities to volunteer to gather data and share your passion for the survival of this key species.
Caring for the lands and waters of our region means eagles can live and thrive here. It's no different for people. If we respect and protect our lands and waters, they will sustain eagles—and all of us—now and for future generations.
Ken Myett is a longtime, active member of the Delaware Highlands Conservancy. He currently volunteers for the Eagle committee and has been an on-site volunteer at the Mongaup Falls Eagle Blind for the past decade. Ken's free public program complements the "Eagle in its Environs" exhibit at Morgan Outdoors, on loan from the Delaware Highlands Conservancy.
Event Duration:  1 hour
Level of Difficulty:  Easy
Leader(s):  Morgan Outdoors and Delaware Highlands Conservancy
Registration required October 11th.  Use registration form below to register.
PLEASE contact the leader and cancel if you are not able to come as others may want to take your place.
Group size is limited so register early.  RSVP to reserve your seat at (845)439 5507 or email to info@morgan-outdoors.com. Morgan Outdoors is located at 46 Main Street in Livingston Manor. Hours are 10am – 6pm Mon, Thur, Fri, Sat. and 10-4 Sunday.
Fee:  No
Dogs allowed:  No
Questions about this event can be directed to:  info@morgan-outdoors.com  or call  (845) 439-5507
Driving Directions:    From Route 17, take exit 96 at Livingston Manor. At bottom of ramp, turn right and proceed 1/4-mile to Old Route 17. Turn left onto Old Rt. 17, proceed 2 blocks and turn right onto Main Street. Morgan Outdoors is at 46 Main Street.
GPS coordinates:  N 41*.54.0626 W 074*49.6737