Reservoir Cleanup Day on the Reservoirs : Ashokan, Pepacton, Cannonsville and Neversink
September 30, 2018 @ 12:00 pm

-

3:00 pm
Join the CMC cleaning up the area near the Ashokan Reservoir that will soon become the CMC's 6th trail, or join the DEP picking up litter around our local reservoirs.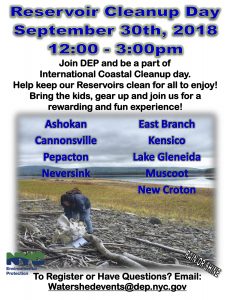 Click on one of the reservoirs below to register for the litter pickup at that reservoir.  Click here for a full map of all clean up locations.
And as part of the annual International Coastal Cleanup Day and Reservoir Cleanup Day, we are going to remove some very old litter that lines an old woods road that will become part of a new CMC Trail. Part garbage pickup, part scavenger hunt, we'll be removing an old washing machine that dates from perhaps the 1930s, rusted cans and broken bottles and who knows what else,  that have been resting on this property for a very long time.   If time allows, we'll do some trail building work on the trail. Click here to learn more and register.