The Catskill region is home to some of America's most significant arts communities. The region gave rise to the Hudson River School,  America's first art movement.  The Catskills have inspired some of our finest painters, sculptors, musicians, poets, storytellers and thinkers. That tradition continues today.
2022 in-person events:
Click on the links for full event descriptions and to register.

I SPY Invasive Species! Paddle   Sunday, October 2, 2022 @ 10 AM    Learn how to identify invasive riparian and aquatic plants found in the Susquehanna Watershed while enjoying a float down the scenic river.
Yoga Sculpt Outdoors Class  October 4, 2022 @ 10 AM    Outdoor yoga at the Catskill Recreation Center.  Multi level yoga class with optional hand weights – possible short hike to follow.
Outdoor Yoga at Pine Hill Community Center  October 5, 2022 @ 10 AM    Join certified yoga instructor Pamela Martin of Pine Hill Studio for a series of relaxing stretches and yoga poses.  Free class.
Outdoor Yoga at the Mountain Top Arboretum   October 5, 2022     Outdoor yoga in the beautiful Mountain Top Arboretum.

Presentation on Catskill Fire Towers     October 4, 2022     Marty Podskoch, the author of The Fire Towers of the Catskills: Their History and Lore, will give a presentation at the Cannon Free Library in Delhi.  Podskoch has done extensive research on the history of all 23 fire towers in and near the Catskills, including the Bramley Mountain Fire Tower which is in the process of being restored.
Hikefest at the Mountain Top Historical Society  Saturday, October 8th @ 9 AM  Situated on the Mountaintop in Greene County, MTHS will offer four interpretive hikes in the vicinity, each visiting historic sites.
Manitou Tour to Westkill Ceremonial Stone Landscapes  October 8, 2022 @ 10 AM    Join Overlook Mountain Center(OMC) to visit two ceremonial stone landscapes consisting of stone walls, cairns (stone piles) and effigies, considered Manitou Hassannash (spirit stones) to Native Americans. Well also visit Diamond Notch Falls in Spruceton Valley.
Poetry Potluck with Mermer Blakeslee at Mountain Top Arboretum  October 9th @ 10 AM    Poetry Potluck is for poetry lovers. Please bring a poem or two (not food!) written by someone else, a poem you find moving or meaningful. Or come to listen. We will read our chosen poems out loud to each other. The themes will be tree, shrub, grass, flower, weather, water, wood, stone, dirt, sky, air, animal, matter, color, season, death, life… If the weather is cooperative, we'll gather outdoors.
Echoes of the American Revolution: Land, Liberty and Loss  October 10, 2022  @ 7 PM     For Indigenous Peoples Day,  join Overlook Mountain Center (OMC) and Humanities NY (HNY) for Echoes of the American Revolution: Land, Liberty and Loss.
Brunel Sculpture Garden Self-guided Tour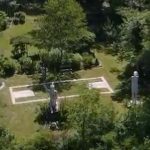 Dedicated to the mysteries and grandeur of nature, Brunel Sculpture Garden is home to over a dozen concrete statues, figurative sculptures, bas reliefs, and totem poles, conceived and constructed nearly 100 years ago by Emile Brunel, a photographer, sculptor, film maker, and founder of the New York Institute of Photography.  The Garden features pollinator-friendly and native plants, unusual edible fruit trees and vines, and celebrates the beauty and splendor of the Catskills.   Open daily 1 – 5 PM.  PARKING IS AVAILABLE ON THE SIDE ROAD EAST OF DESILVA ON ROUTE 28, BETWEEN CALDWELL BANKER AND BREAD ALONE IN BOICEVILLE. More info.
Mountain Top Arboretum
Mountain Top Arboretum is a public garden in the Catskill Mountains dedicated to displaying and managing native plant communities of the northeastern US, in addition to curating its collection of cold-hardy native and exotic trees.
Beautiful paths lead through the Arboretum's 178 acres of meadows, woodlands, and glens.
More info
.
Additional Arts and Cultural places to visit along with their current opening status can be found here at the Catskills Visitor Center website.